Garmin Nuvi 57 GPS
Advanced Driving Navigation at a Value Price
Easy-to-use dedicated GPS navigator with 5.0-inch dual-orientation display
Preloaded with detailed maps of the lower 49 U.S. states
Garmin Real Directions™ guide like a friend using landmarks and traffic lights
Find new and popular restaurants, shops and more with Foursquare®
Direct Access simplifies navigating to select complex destinations, like malls and airports
Compare
Description
Garmin nüvi® 57 GPS

Garmin Nuvi 57 GPS Owners Manual/ Datasheet
Download Maps
Advanced Driving Navigation at a Value Price
Easy-to-use dedicated GPS navigator with 5.0-inch dual-orientation display
Preloaded with detailed maps
Garmin Real Directions™ guide like a friend using landmarks and traffic lights
Find new and popular restaurants, shops and more with Foursquare®
Direct Access simplifies navigating to select complex destinations, like malls and airports
Dedicated, Easy-to-use GPS Guidance
For driving directions on the road, put away the smartphone and power on your nüvi. nüvi 57 is an easy-to-use, dedicated GPS navigator that does not rely on cellular signals and is unaffected by cellular dead zones. nüvi 57 features sleek styling and a bright, 5.0-inch dual-orientation display, for use horizontally or vertically. Its included suction cup mount keeps it firmly in place.
Detailed Maps
nüvi 57 arrives preloaded with detailed maps of the lower 49 U.S. states.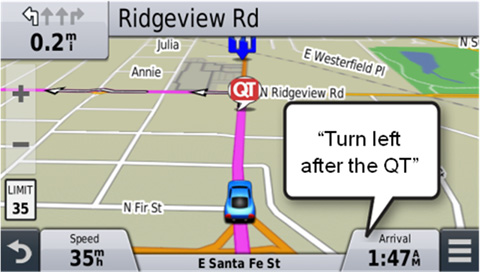 Garmin Real Directions
nüvi 57 redefines "spoken turn-by-turn directions" with Garmin Real Directions, easy-to-understand driving directions that guide like a friend using recognizable landmarks, buildings and traffic lights. No more stress from trying to read street names. Instead, hear clearly spoken guidance, like "Turn left after the gas station."
Foursquare Adds Millions of New POIs
nüvi 57 makes it easy to find addresses and millions of POIs (points of interest) – that is, businesses, stores, restaurants or other destinations. Our POI database also includes accurate, relevant information sourced from Foursquare. Now, when you search, the most relevant Foursquare result appears at the top of the list. It's an easy way to discover new and popular restaurants, shops and more.
Find Exactly Where You Need to Go
The Direct Access feature simplifies navigating to select complex destinations, like airports and shopping malls, by finding a place within a larger location. Direct Access even navigates through parking lots to find the entrance nearest your destination. When navigating to the mall, Direct Access gives additional location information for specific retail stores inside. For example, "Arriving at Woodfield Mall. Anthropologie is inside, on the upper level."
Navigate Complex Interchanges with Ease
nüvi 57 has lane assist with junction view that displays upcoming junctions and uses brightly colored arrows to indicate your proper lane.